ABOUT: (Excerpt from https://www.clovermamaafrika.com/)
Ukwakha Isizwe – Building and nurturing our nation. We identify women who are making a difference in their communities and provide them with income generating skills to become self-sustainable.

THE STORY OF CLOVER MAMA AFRIKA
Dignity is not a privilege to be earned; it is a right we are all born with.
Poverty, hunger, lack of education, and neglect are powerful forces that strip away our self-respect. Yet, in the shanty towns and ghettos of South Africa, where poverty, crime, and desperation is rife, there shines a beacon of hope. Everyone knows her. A woman of incredible grace, whose heart is open to care, nurture, educate, and provide a haven to those who need it. In rundown facilities, she fiercely protects the vulnerable, forgotten children of society from the social ills that poverty and desperation often bring. With meagre resources she feeds the hungry, always placing the needs of others above her own. Her name is Clover Mama Afrika.

It is women like these who make our country a better place, a place which provide hope for a better future to those who have lost all hope.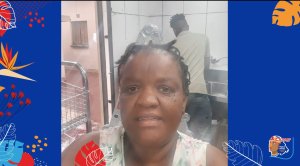 Here's some updates from one of our beneficiaries, Mama Afrika. The New Year had hardly...
Universal Paints was recently involved in the Clover "Mama Afrika" project. Through its grassroots initiative,...